Product Overview
Internal self-cleaning cascade filter for underground cisterns and above-ground water tanks. Suitable for roof areas up to 3,750 sq. ft.
Package includes:
Optimax Pro® Internal Cascade Filter
Inflow pipe with Calming Inlet
Overflow siphon with rodent guard
Spannfix pipe connection sleeve
This filter requires a manway diameter of at least 24" for inlet and outlet clearance. The filter overflow needs to directly connect to the overflow siphon.
Additional Included components:
Optimum cleaning performance with maximum water yield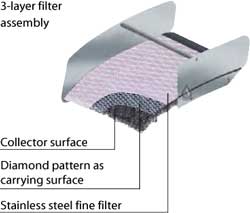 Filter specially developed for rain water harvesting
Patented filter technology
Low maintenance; self cleaning
TÜV safety-tested
Space saving filter technology integrated in the tank
Can be installed on top of above-ground tanks
Filter housing can be removed without tools to inspect tank
Transparent cover for easy maintenance
4" PVC connections
Can be fitted with Opticlean cleaning unit
Only 6.5" height offset between inlet and outlet
Optimum cleaning performance with maximum water yield
Provides over 95 % water yield