Product Overview
Type a description for this product here...
Graf Platin 2,000 Gallon Underground Cistern with 26" Manway Opening and 14" high telescopic riser with childproof PE lid. An excellent choice for minimal excavation depth and high groundwater tables. Vehicle loading and internal filtration options are available.
The Tank Guaranteed Not to Collapse When Empty*
* When installed in compliance with manufacturer's installation instructions
The new generation of Platin low-profile underground rainwater tanks makes installation easier than ever
The Platin® tank lineup consists of four low-profile tanks ranging from 400 gallons to 2,000 gallons. The ultra-high strength design of the Platin makes it groundwater stable up to the tank's shoulder and, when fitted with the appropriate lid, is safe for vehicle traffic. The Platin tank is guaranteed not to collapse when empty when installed per the manufacturer's specifications.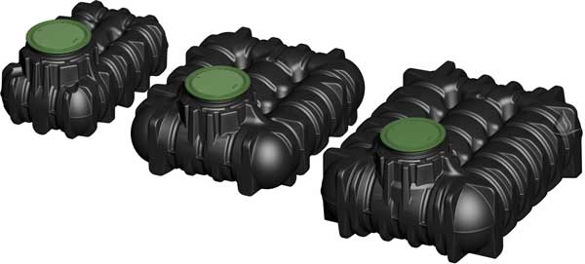 Platin Tank Features:
15 Year manufacturer's warranty
Minimal installation depth
Suitable for vehicle loading (when combined with cast iron lid option)
Groundwater stable to the tank shoulder
Internal pre-filtration option
Grass green telescopic riser and latching lid included
Easy to transport and install
Convenient 26" manway opening
Easy-open access in lid for garden hose connection
2000 fully-usable gallons
Ease of installation:

Minimum installation depth greatly reduces installation time and cost, while modular components and integrated filter technology make the system easy to assemble.

Ultra-high strength materials and design enable a wide variety of installation options like high groundwater tables, underneath driveways and areas where rock and other obstructions prevent deeper burial.

Telescopic riser tilts up to 5°, making it easy to match existing grade.

Optional Accessories:
Internal Minimax Pro Filter Option:

Specially designed for rainwater harvesting, the Graf Minimax Pro internal self-cleaning filter handles debris from roof areas up to 3,750 sq. ft.

Greatly simplified installation
Only one lid in the yard
Provides over 95% water yield
Self-cleaning
Very low maintenance
Optional Opticlean sprayhead available
Internal Basket Filter Option:

The internal basket filter provides 100% water yield for installations where every drop counts. Filter handles debris from roof areas up to 3,750 sq. ft.

Greatly simplified installation
100% water yield
Convenient lift-out handle
Easy access for cleaning under tank lid
Vehicle Loading Option:

Includes heavy duty telescopic dome shaft and cast iron lid for vehicle loading up to a maximum axle loading of 2.2 tons.

Upgrade price: $689.95
Tank Dimensions:

| | | | | |
| --- | --- | --- | --- | --- |
| Tank | 400 Gallons - | 800 Gallons | 1350 Gallons - | 2000 Gallons |
| Part No. | 390000 | 390001 | 390002 | 390005 |
| Weight (approx) | 175 lb. | 375 lb. | 530 lb. | 795 lb. |
| Length (l) | 83" | 96" | 114" | 142" |
| Width (w) | 49" | 83" | 91" | 89" |
| Height of tank shoulder (h) | 28" | 29" | 37" | 49" |
| Height of dome collar (hc) | 12.5" | 12.5" | 12.5" | 12.5" |
| Ø Manway opening (m) | 26" | 26" | 26" | 26" |
| Ø Tank dome (d) | 31.5" | 31.5" | 31.5" | 31.5" |