RainFlo automatic 3/4 horsepower pumping system with durable and quiet performance up to 26 GPM and 65 PSI (max.)
When performance matters:
The RainFlo MHP75A is an automatic 115V/60Hz 4-stage 3/4 HP centrifugal surface pump with all stainless steel 304 construction in the water end. The pump automatically activates whenever water begins to flow from user demand such as an irrigation valve opening or a hose end sprayer being operated. When water flow stops, the pump shuts off. The pump control unit also features run-dry protection to prevent damage to the pump when no water is present.
Comparison to others:
Many of today's automatic surface pumps are configured with a built-in integrated controller. While built-in controllers are convenient, they are commonly the first component to fail which renders the rest of the pump inoperative and many times irreparable. Ironically, the controller is also the least expensive part of the pump system.
The MHP75A is configured with a removable controller which not only allows user-friendly diagnosis and repair, but it also helps protect your pump investment in the event of a power surge or electronics failure. To diagnose the pump, simply unplug it from the controller and plug it into a wall outlet for about 10 seconds. If it runs, the problem is isolated to the controller.
Its solid construction with a thick stainless steel casing and stainless steel impellers result in the durable and quiet operation this pump is known for.
Pump Performance Curve: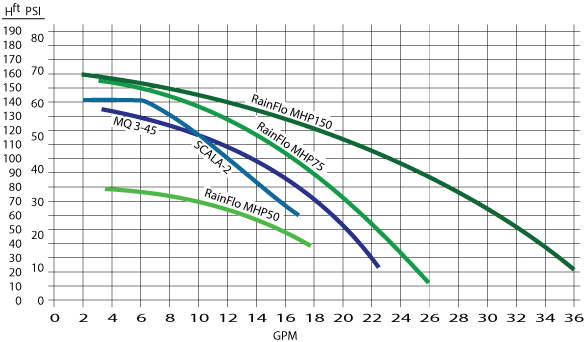 MHP75A Functional Overview Video:

Pump Performance Chart:
RainFlo MHP75 Performance Chart

TDH

PSI

GPM

150
65
6.5
139
60
9.2
127
55
11.7
116
50
14.0
104
45
15.8
92
40
17.0
81
35
18.8
69
30
20.2
58
25
21.4
46
20
22.7
35
15
24.0
23
10
25.0
13
5.5
26.2
Performance range:


Flow up to 26 GPM
Head up to 164 ft
Inlet/Outlet size:
1" FPT
System pressure:
Up to 65 PSI
Inlet pressure:
Max. 145 PSI
Operating pressure:
Max. 145 PSI
Liquid temperature:
32°F - 158°F
Ambient temperature:
32°F - 122°F
Nominal voltage range:
110V - 120V, 60Hz, 10A max.
Power cord:
5 foot 3-prong grounded
P1kW:
1.04
P2kW:
0.75
Weight:
32 lbs
Dimensions:
15.75"L x 6.5"W x 9"H
Thermal protection:
Yes
Motor:
2-pole induction, Continuous duty
RPM:
3450
Cooling:
Air cooled
Insulation class:
F
Protection:
IP55
Certifications:
TÜV, CCC
Rear side and priming/drain ports illustration:


(upper is the priming port, lower is the drain):